MEMBERSHIP DESCRIPTION
Excited to announce instructor and resource partner perks are available. If you offer/provide any of the following services, join our next info session.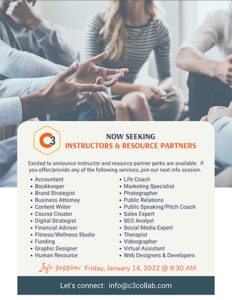 Download the flyer for more information
BENEFITS
Accountability
Mastermind
Leads
Work Sprints
Quarterly expert panel discussions
Monthly Intensives, e.g. Content Creation Labs
Lead Masterclass with the opportunity to upsell your own services. Compensation for leading a masterclass is $100-$150 depending on the length of the masterclass, with a minimum of 4 people registered.
Podcast Guest
Post in C3 Blog
A spotlight in social media, website, and PR pieces
Monthly Resource Partner collaboration session – virtual session
Monthly Resource Partner mastermind – virtual session
Access to Masterclasses (created by other Resource Partners)
Get to be speakers at the Creatives Conference (to be held in October)
Referral incentives: Depending upon how many people you get to either join the community or participate in the masterclass, you will receive a minimum of 15% based on the number of referrals. OR One-hour strategy/technical session ($350)
Note: Resource Partner code provided to determine referrals.
Bonus: One hour of content creation at C3 monthly and discounts on space as well as the first to be informed of new offerings.