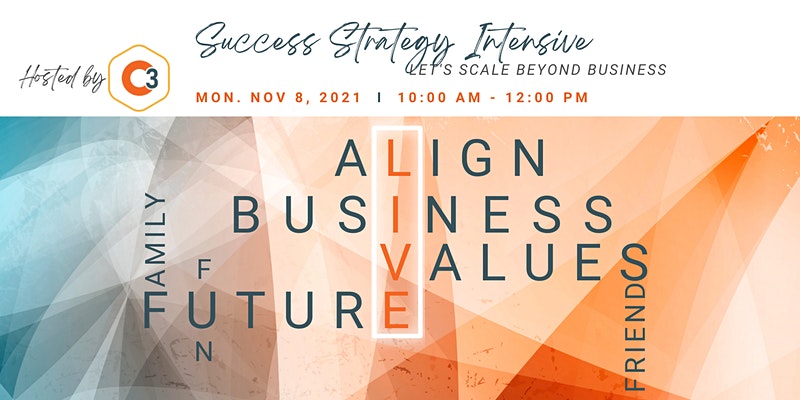 Success Strategy Intensive – Let's Scale Beyond Business
Mon, November 8, 2021

In starting, launching, or scaling a successful business, balanced is not how one typically describes life. However, when you know what your business/life values are; it is easier to live a life in alignment that is fun and financially rewarding.
While most entrepreneurs start the year by developing SMART goals or jotting new years resolutions (I know I did in the past), I am excited to share with you a different approach. One that takes into account all aspects of life. Why? Well, as an entrepreneur you are in high demand from clients to partners, friends, and family…if you were to do it all, you'd quickly reach burnout.
Join me for this two-hour intensive, as we:
Explore your business and personal values
Identify areas of focus in 2022
Develop a 12-month business and life strategy for success
And more!
Mon. Nov. 8, 2021, at 10:00 AM
The two hours include:
one hour of learning,
one hour of developing your strategy
Virtual participants – will be provided a zoom link to join.
In-Person attendees are limited to eight and include snacks.
Please note, follow C3 Collab to stay up to date with upcoming events including labs, panel discussions, and more.
Schedule:
Mon, Nov 8, 2021, 10:00 AM EST
Virtual/In-Person
Location
In-Person
Creative Collaborative Community
367 Silver Lane
East Hartford, CT 06118
View in Map
Refund Policy
Refunds up to 7 days before the event.